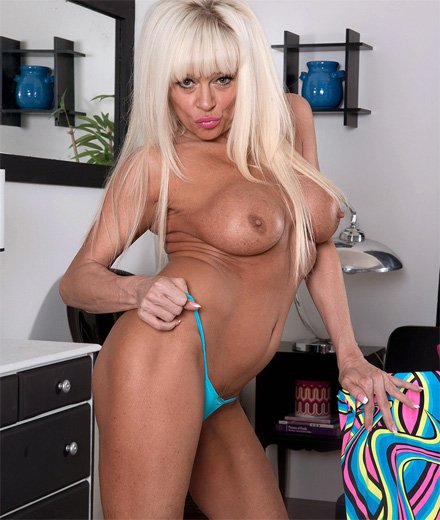 I don't know about you, but I could picture myself getting a rub down by this sexy mature babe. Farrah Rose is 47 and smoking hot, and more than a little horny too!
Farrah Rose, a 47-year-old divorcee from Los Angeles, is a massage therapist and an exotic dancer, and she loves taking her work home with her. "I've got regular hobbies like sailing and cooking, but my favorite thing to do is give a nice sensual rubdown," she said. "You better believe I give happy endings in the bedroom! I take a lot of pride in my tight, tanned skin, so I love jerking a guy off onto my tits. The white cum makes such a great color contrast!" She works as a part-time fitness instructor, too, so if it sounds like she's busy, that's because she is. "I work all day, then come home to my beautiful children. That's probably why I'm single. I'm a strong woman who doesn't need a man to take care of me..except in the bedroom! I still need to be discreetly fucked about three times a week." Or not-so-discreetly. She's already fucked twice at 40SomethingMag.com, and all the world has seen her take a big dick in her ass. "I love anal sex. Love it." Here, she loves fingering her pink pussy and spreading her cunt and well-fucked butthole so we can see inside. You'll enjoy the view.
Gotta love a horny MILF that does it all and loves it all, I am sure a little massage oil will make taking her in the back door a real pleasure!
Download the full sets with sexy Farrah Rose at 40 Something – you know you want her!